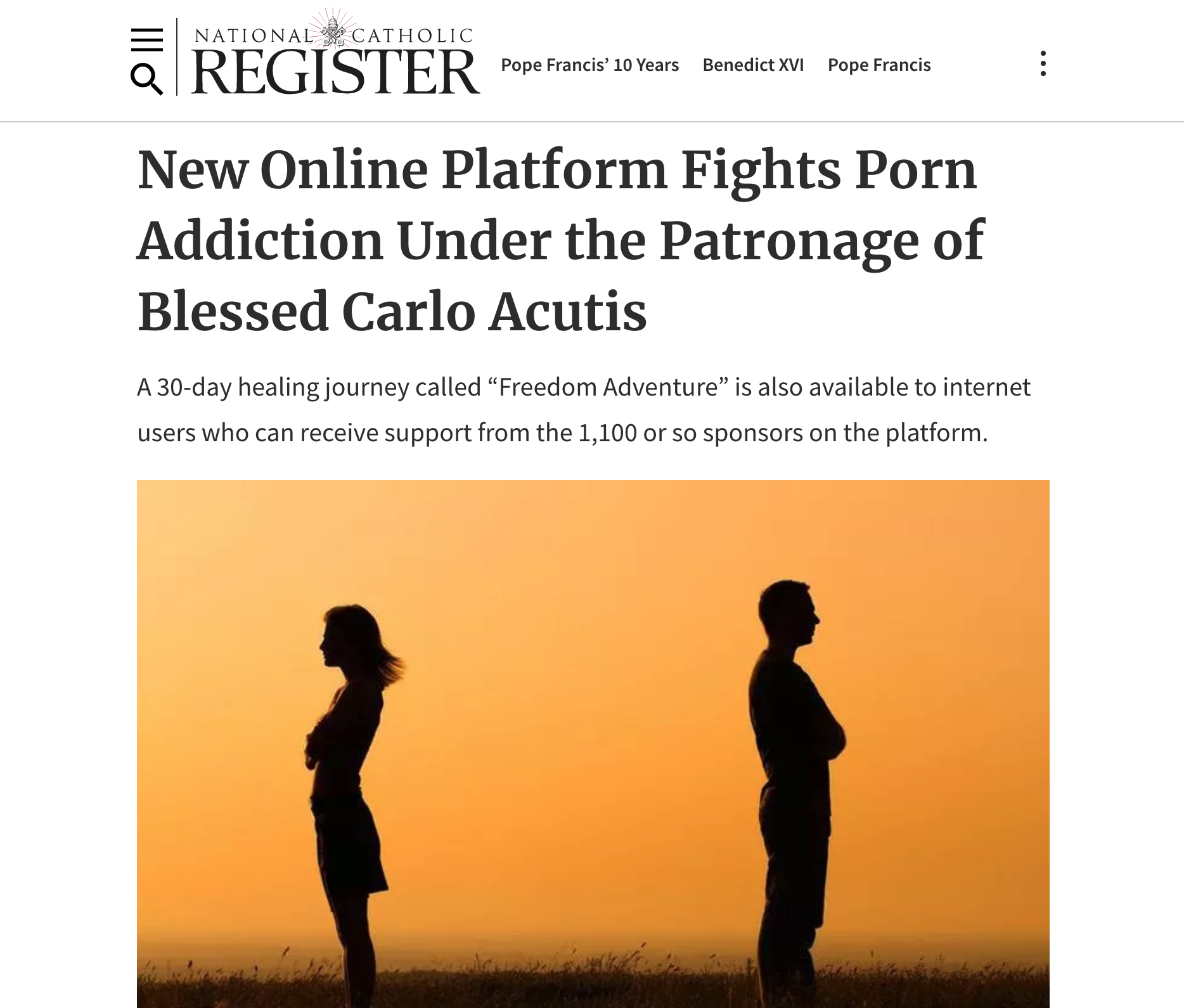 New Online Platform Fights Porn Addiction Under the Patronage of Blessed Carlo Acutis (NCR)
Read here on National Catholic Register
Full version:
-What made you want to launch a new website, in the wake of Lights in the Dark, that is specifically dedicated to providing support against pornography addiction? 
Our organization was created in 2015 to offer the Good News of salvation as widely as possible within the digital world, to those on the peripheries, those who are far from the Church. We have several themed websites, such as one about Christmas, for evangelizing online during that period, one on Saint Valentine and on the Turin Shroud. We also have one on life after death, which we hope to translate into English one day. On each website, we offer users the opportunity to chat confidentially with an e-missionary trained for this mission, which above all consists of listening with compassion and bearing witness to God's love in our lives. We want to make Christ known and loved first and foremost to our contemporaries who don't know him yet, because we know that Jesus has the power to free them from the things that are holding them hostage; he can deliver them from their addictions. Pornography is one of these addictions, and unfortunately, it's an addiction that is fairly common. For example, pornography gets 25% of video traffic on YouTube. It destroys sexuality and causes many wounds. Today, 10% of 14 to 21 year olds watch porn at least once a week, 60% of underage children have access to porn from the age of 10, 56% of divorces come from an addiction to pornography. It is a huge challenge!
-Why did you place this initiative under the patronage of Carlo Acutis? 
Carlo became a part of our organization at the beginning of our mission in 2016, through a friend who is a priest, who talked to us about him. At that time Carlo had been given the title Servant of God. We started to pray to him and very soon realized that he was answering our prayers! For instance, someone who had scheduled his euthanasia in Belgium, whose situation was being covered by the media, turned to us via the chat facility of our website on life after death, and after three days, he wrote us: "I don't know what happened but there must be someone up there in heaven, because I don't want to end my life anymore, and I would like to know who this Carlo is." And since then, this person has been walking with God… So, to come back to pornography, we were being asked if we were going to do something from the time our organization began, but we had no clear direction on where to start. Then, in 2020, a mother from my parish approached me to ask if we could put a prayer on the Internet for deliverance from addiction to pornography through the intercession of Carlo Acutis and we (including the president of our organization) thought "this is a great idea"! She told us that, over the course of three days in April 2020, an abbot of a Benedictine abbey had given the prayer his Nihil Obstat, then a bishop had given his Imprimatur, asking them to spread the prayer all over the Internet, and finally Pope Francis had published a video in which he asked for prayer and support for these people who are addicted to porn. Then, for us, the final confirmation came a few days later when we got an e-mail from Carlo Acutis' mother saying "molto bene authorizatio!
Did the Pope also answer you?
Yes, we wrote to him at the end of August 2022 and we were delighted to receive a reply three weeks later in which he encouraged us to "continue to reach out to the wounded and fragile, in search of meaning in their lives," to be "a beacon of hope" for those who are discouraged and sad." He also encourages us to "take care of the fragile members of our families, of our society, of our people."
-You've just launched the English version of the website. How many people on average have sought help via the French website since its creation in 2020, and what type of people do you find use it the most? 
Since it was launched in September 2020, SOSporno has reached 20,000 people with a porn addiction and we have had 1,500 online chat discussions. 410 people with the addiction have followed our 30-day Freedom Adventure program, which we would like to make permanent, supported by 1100 sponsors who offered their Lent for the person they were sponsoring. The people seeking help include both men and women, young and old, and very often our helping hand is a real lifeline for all those addicted to pornography. In some cases they had given up hope of help decades ago! Unfortunately, we also see members of religious communities, priests or seminarians. However, thanks to Carlo, we have seen healings, like that of Agathe, aged 22, who had been addicted for more than 10 years and who, nine months later, told us that she had been set free, like being born again! Or François who was also cured, after 25 years of addiction. All these testimonies can be found online and they are very encouraging for those who are addicted and who hear and learn this good news: with God's help, it is possible to break free from pornography!
What future ambitions do you have for your initiative?
We want to train more volunteer e-missionaries for the chat facility on our websites and translate our Mooc into English to help with this. We would also like to take Lights in the Dark to other countries, like the United States, to create national communities of e-missionaries who pray together and expand this ministry. If a bishop or a Catholic university calls us, we are ready to come. We were delighted to receive a beautiful relic of Carlo at Easter, and we are launching prayer vigils to ignite and rekindle the missionary flame in the heart of the Church, in the footsteps of this saint who was one of the first online missionaries!